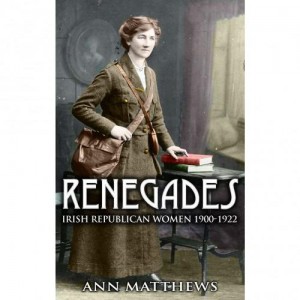 Renegades
is a comprehensive account of the tragedies, triumphs, politics and conflicts experienced by Irish women during the country's War of Independence and the split in its ranks over the Anglo Irish Treaty in early 1922. It will shock and possibly disturb any with romanticised views of their role in this period of Irish history because the reality of the abuse of women within the general population by both sides in both Wars is absent in most histories of the period. But this war on women, which manifested itself in the form of physical and sexual assaults, meant that many women suffered a terror that was not confined to armed conflict.
The book also explores the separation of republican women during the Irish War of Independence and Civil War into two distinct groups. Cumann na mBan members perceived their role to be purely military and so they did not engage in politics. On the other hand the political women, who by this time perceived themselves as the female political elite, were proactive in pursuit of a significant position in Irish politics, especially when the Sinn Féin party was reformed in October 1917.
The History Show Is Countess Constance Markievicz an over rated Icon of Irish History?
The History Show Centenary of Cumann na mBan
Marian Finucane – Cumann na MBan